Shopify Store is a simple-to-use tool for online merchants that includes a point-of-sale app for accepting payments in physical stores. It allows businesses to create a multi-channel experience that helps them to promote their brands. 
Are you a promising entrepreneur with a strong marketing background yet unsure how to launch a Shopify store on your own? We're here to assist and guide you through the process of setting up an online Shopify store.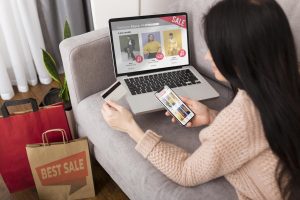 Launch a Shopify store for your online business using these procedures.
How to set up a Shopify shop
Create an account with Shopify and go to the Shopify main page. You'll be led to your local edition of shopify.com. In the upper right corner of your web page, click the icon. After that, you'll be prompted to fill out some basic information before choosing a name for your store. This will be your company's unique identity. You will be requested to modify the name of your Shopify store if the name you selected is not available.
Share more information about your Shopify store
Shopify will also ask you for information about your business in addition to your personal contact information. You must complete the fields that inquire about your business revenue. This helps in creating your Shopify store, and billing information. You'll be routed to your Shopify admin page once they're finished.
Make your Shopify store unique
Shopify's admin page provides all the information you'll need to get started with your online marketplace. You'll be able to add things to your marketplace either individually or in bulk from this page. You can also include services, data, and anything else that is digitally available. Choose the design of your Shopify store.
By converting visitors into valuable consumers, the design of your store should reflect not just your product, but your ethos, style, and distinctiveness. Start by picking a basic theme from one of our available virtual stores, then customizing it to meet your brand's style and look.
Personalize the aesthetic of your Shopify store
The Shopify Theme Store has over 100 themes, which is very handy for businesses that are just getting started. There are also customizable themes available in both free and paid categories, allowing you to make your eStore seem exactly as you want it to. While knowing basic HTML and CSS can help you customize your store. Whether you know how to code or not, Shopify shops are all equally adaptable. If you have a little more money to invest, Shopify has a network of "Shopify Experts" who can assist you with the finer elements of customization.
You can also select a Shopify theme based on the industry you're in. The Shopify website's design also aids in the optimization of your search. How effectively a theme is optimized for mobile use is an important aspect of utilizing it. According to current data, more than 52% of internet users now access sites via mobile devices, making it critical to ensure that your site is mobile-friendly. Because mobile optimization is also an important aspect of search engine optimization, you should pay special attention to it as a marketer.
You'll be able to change the appearance of your website, including footers, text overlays, and other elements. You can upload logos for your company or brand, choose fonts that match your branding and aesthetics, adjust the color scheme of your site, and add information about things for sale per page of your site, as well as links to your social network profiles.
Add items to your Shopify store
Now that you've settled on the layout of your website, it's critical to include all of the items and services you have to offer. Choose the "Products" option to add new products to your listings. You can include the product's name, a description of what you're offering, images, prices, and more in this section. Shopify also allows you to list any product versions that are currently on sale. You can also include SEO terms, shipment details, and other details. There's also the option of listing inventory so that your customers know what's available.
Sort and categorize your items
Make sure all of your products are properly classified to make it easier for your buyers to find them. This option is also available under the product dropdown menu on the same administrative page. You can also have your products included in specific collections automatically if they fulfill certain criteria.
Configure a Shopify payment account
When it comes to launch a Shopify store, this is the most important stage. You'll need to set up how customers will pay you and how you'll receive payments on your eCommerce site. You can use third-party payment solutions in addition to Shopify's own payment gateway.
To understand which payment methods your consumers are most likely to use, start by carefully studying your user base and demographics, and then conducting a poll if necessary. After that, you can decide on a solution.
Find out about Shopify's taxes and delivery fees
For tax purposes, double-check that all of your information is valid, as you'll need to include it on your products. Always keep track of your assets, purchases, and other pertinent data, and make numerous copies of it. Your customers will also want to know if you have incorporated any additional taxes in your cost estimate. You can disclose Shopify taxes and foreign shipping charges for each product in the products area to maintain transparency. You can explicitly clarify whether they are included in the product's cost or incur an additional fee.
Put your ordering system to the test
Shopify provides a feature called a "Fake Gateway" that allows you to test if your ordering system is up to par. Just like any other e-commerce site, you can place an order with real payment details. Go ahead and buy something; however, the trick is to cancel the order in time to ensure that your money is refunded. The next step is to examine your ordering system from the back-end of your payment gateway to determine if everything is in order.
A domain name can be purchased through Shopify or a third-party hosting provider because it is one of the crucial aspects of eCommerce. If you decide to go through with an external domain, be sure to change your Shopify store's details. This can be done by returning to your Settings and selecting the Domain option. To add it, go to "Add domain" and click it. After that, you'll need to update the DNS records that are already in place.
Remove the password security
When you create a Shopify store, it's password-protected by default, so no one but you can access it while you're setting it. If you don't disable password protection, your site will stay inaccessible to customers.
Conduct routine inspections
Make sure to perform back-end administrative tasks on a regular basis, especially if you're moving domains, upgrading plans, or doing anything else.
Conclusion
You should be able to launch a Shopify store on your own based on the procedures listed above. However, if you have any questions or require professional assistance, you can contact our Shopify experts.